Toy Factory International Co., Ltd. (Head Quarters: Uruma City, Okinawa, President: Akifumi Fujii) announces a mobile clinic vehicle in which medical care is provided inside and outside medical facilities.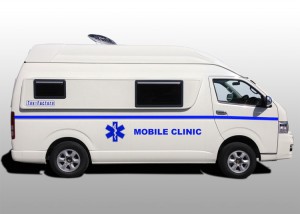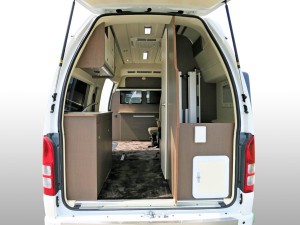 Since the government has declared a state of emergency and the number of confirmed new coronavirus cases is increasing across Japan, front-line healthcare workers are concerned about the risk of secondary infection and the possibility that new cases may overwhelm hospitals.
Under such circumstances, Prime Minister Shinzo Abe in the Council on Investments for the Future on April 14 proposed that "New Healthcare", which combines face-to-face consultation and telemedicine, will be evaluated in the revision of medical service fees for the next fiscal year.
We have embraced this trend and engaged in the development of vehicles for mobile clinics to be used inside and outside hospital premises.
The starting point for us to develop vehicles designed for healthcare service was receiving feedback from our customers who had to evacuate their homes in the aftermath of the Great East Japan Earthquake. Many of them said, "Your camping car provided privacy and was useful".
We considered how to utilize our technology and manufacturing knowledge and found some solutions. One of these solutions is the mobile clinic vehicle.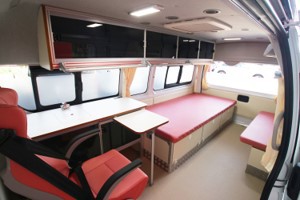 [Mobile clinic vehicle manufactured for overseas needs]
We conducted initial demonstration experiments in East Africa with support from the International Red Cross since the laws and regulations made such experiments difficult to conduct in Japan. Following these experiments, we manufactured and exported vehicles to be used as a mobile clinic in Asian countries. Then, we started production of vehicles to treat Covid-19 patients.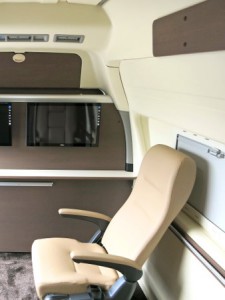 Performing a physical examination outside the premises of a medical institution is difficult under the present Japanese laws. However, the recently announced "New Healthcare" initiative allows us to solve this issue by setting the mobile clinic as an isolated clinic within the premises of a medical institution (for example, if it is operated in the hospital car park).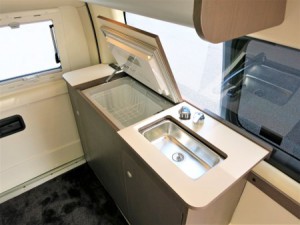 Our vehicles manufactured for use as mobile clinics offer the following functionalities which make telemedicine possible:
・Each material is antibacterial and washable.
・Equipped with a refrigerator with temperature control to store medicines and vaccines.
・Monitors can help establish a telemedicine system if the mobile clinic vehicle is specially deployed inside medical facilities.
Looking toward the easing of restrictions in the near future, we plan on adapting these vehicles to fulfill the needs of various medical settings, such as mobile clinics at the time of disaster and healthcare service in remote areas.
[Mobile Clinic Vehicle Equipment and Specifications]
・Base vehicle is a Toyota HiAce Super-High Roof
・Seat for one patient and two monitors for communication
・Power battery which works also in an emergency
・Air conditioner which is operable without the engine running
・Sink for washing hands, refrigerator and flushing toilet
・Special, easy-to-clean plastic material is used for wall surfaces
・Emergency stretcher and Plasmacluster air purifier for virus removal
・Wooden furniture for a relaxing medical examination
[Manufacturer Information]
Trade Name: Toy Factory International Co., Ltd.
Representative: President Akifumi Fujii
Location: 12-92 Susaki, Uruma-shi, Okinawa, 904-2234 JAPAN
Established in July 2012
Business Description: Manufacturing and distribution of camping cars, manufacturing of high-grade special-purposed vehicles and related parts, and manufacturing and distribution of vehicles for domestic and overseas markets.
URL: http://www.toyfactory-intl.com/jp/