To contribute to remote medical care Toy – Factory International developed a medical examination car "Toyota Hiace-Based Doctor Car" which is currently being strongly requested by developing countries all over the world.
Now, we are pleased to inform that we were finally able to deliver our second Dr.car to Nepal on September 11, 2018.
We delivered the Dr.car to a medical institution named Phul Kumari Mahato Memorial Hospital(PKMMH) in Siraha, a village 190 miles away from Kathmandu, the capital of Nepal. The hospital was established by Dr.Mahato after his mother's death who was not able to access any medical care in Siraha. Today, PKMMH is the only medical institution in Siraha that is providing free treatment for people who have financial difficulty.
In order for the doctors in Siraha to bring medical service to remote areas, we proceeded with this project in collaboration with Japanese Embassy in Nepal and a group of students from UWC ISAK Japan, an international high school in Karuizawa, Japan.
The ceremony was held at Nepal Mediciti Hospital, a modern medical institution built by Dr. Mahato in Kathmandu. Dr.Car was introduced to the guests including Mr.Saigo, Japanese ambassador in Nepal, local doctors and nurses in Kathmandu, and the press. It was the moment that we, Toy-Factory International and students from UWC ISAK Japan, had waited for years.
The cheers and joyful faces of inhabitants made us recognize the importance of our project and the further spread of Dr.cars to the world.
Lastly, we have to thank the students from UWC ISAK Japan who have participated in this project from the beginning and made every effort for the financial sustainability of Dr.car. Without your efforts, we were not able to lead this project to success.
We promise to continue our support for the development of medical service in remote areas of Nepal with the Japanese Embassy of Nepal and local medical institutions.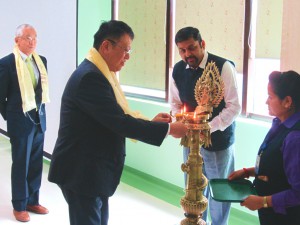 A representative Toy-Factory International(Left), and
Mr. Saigo, Japanese Embassy of Nepal,(Second from Left).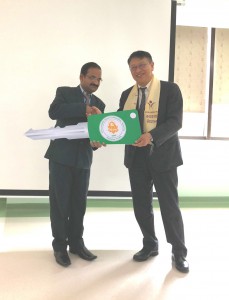 Dr.Mahato(Left) and Mr.Saigo(Right)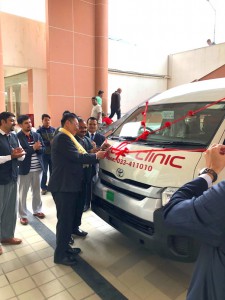 eremony.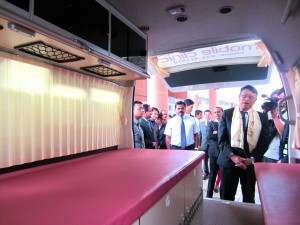 Mr.Saigo looking over the vehicle